About Us - Abberly Village Apartment Homes in West Columbia, SC
Welcome to our community page
Abberly Village Community Table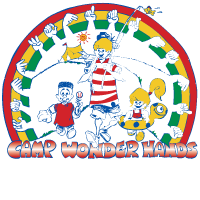 "A Special time and place for children who are deaf and hard-of-hearing."
Wouldn't the world be a better place if every child got to go to camp?
The Abberly Village Team will begin fundraising efforts to send a child to Camp Wonder Hands! Our goal is to raise
$500
, the costs to send one kid to camp, over the course of a few different fundraisers. Last month we raised
$280
, with our Spaghetti Dinner Fundraiser! This month we will be partnering with
Marcos Pizza
, and selling $5 pizzas for you to take home and enjoy with friends and family. We encourage you to stop by the office and pre-pay for your pizza, because supplies are limited. Please take a few moments to read the information about Camp Wonder Hands provided below, we are very excited about the opportunity this program gives children!
Price: $5.00 Per Pizza
Pick-up Date: Tuesday, June 18th
Pick-up Time: 5:30 PM - 7:00 PM

PROGRAM DESCRIPTION:
Camp Wonder Hands originated in the Summer of 1996 as a vision of Mrs. Marolyn Amick, a Child Life Therapist at Prisma Health Children's Hospital–Midlands. Mrs. Amick, who is herself hearing impaired and has a child who is deaf, felt the need to provide an atmosphere where deaf and hard-of-hearing children would be able to identify with others and learn that they are not alone in their experience.
Camp Wonder Hands is a six-day, five-night, overnight camp held at Camp Kinard Lutheran Conference Center in the Batesburg-Leesville community of Lexington County South Carolina. This camp offers enriching activities and interaction with positive deaf and hard-of-hearing adult and college aged role models from our community. The Camp Wonder Hands summer camp is unique in that it is the first, and at present, the only opportunity of its kind for deaf and hard-of-hearing children in the Midlands.
GOALS AND OBJECTIVES:
To provide an environment where deaf and hard-of-hearing campers are the majority.

To provide an arena for celebration of their unique culture and beautifully expressive language, thus cultivating a sense of belonging and confidence building.

To provide the special opportunity for campers to make new friends with others of similar experiences, while receiving encouragement from adult deaf and hard-of-hearing role models from our community.

TO HAVE A GREAT TIME!
Feel free to visit www.palmettohealthchildrens.org/programs/camp-wonder-hands for more information.